Please find below a list of frequently asked questions about our healthy ageing exercise classes in Toowoon Bay. If there's anything we haven't covered that you'd like to know more about, please feel free to email us at [email protected].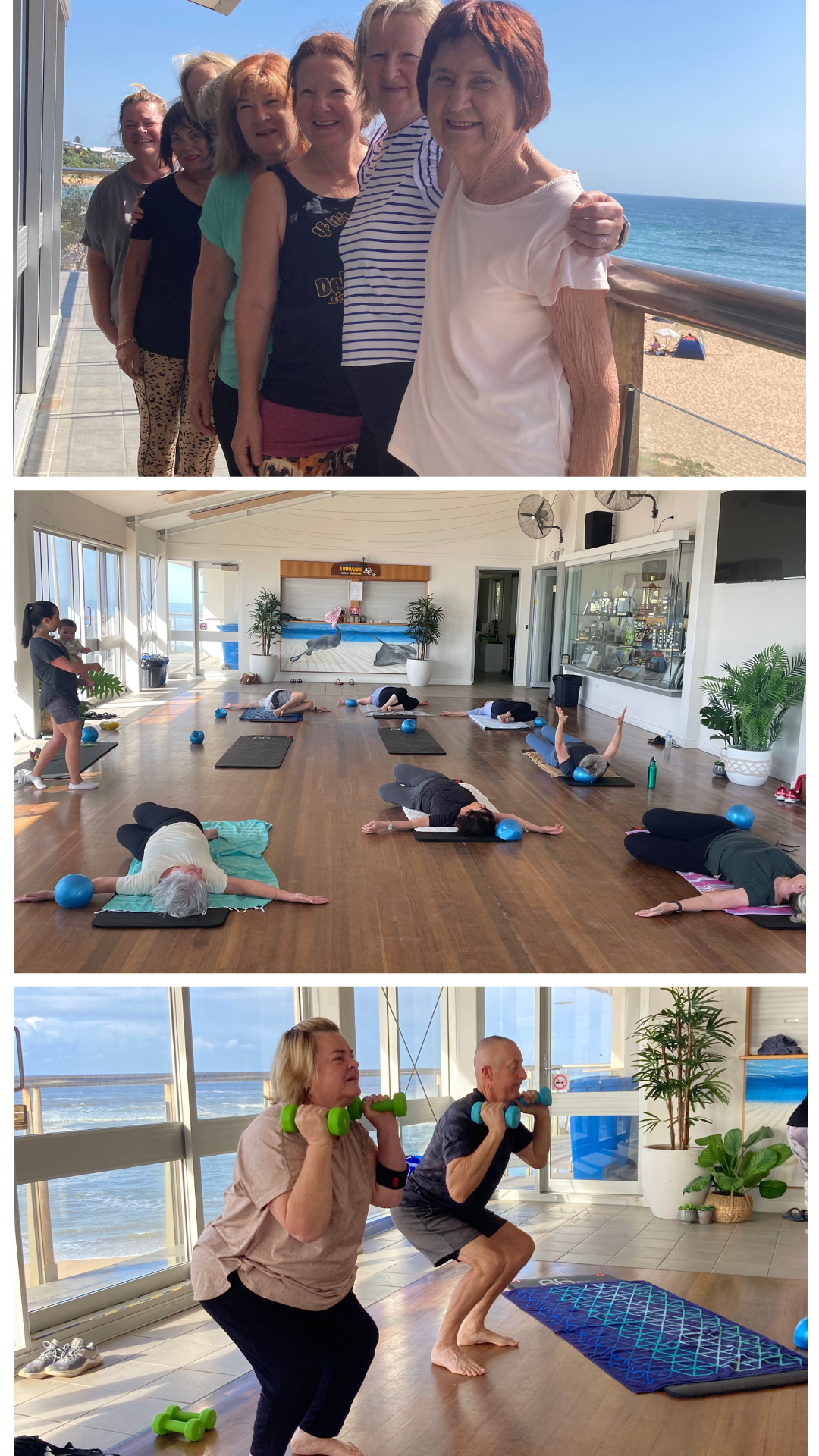 When are your classes?
We currently run classes every day during the week:
Mondays: 8am, 9am, 10am, 6pm
Tuesdays: 9am
Wednesdays: 8am, 6pm
Thursdays: 9am
Fridays: 9am, 10am, 11am
The full timetable can be accessed by clicking here, although please note that it is subject to change. 
We regularly add new classes depending on what works best for our clients, so if there isn't currently a session that suits you, we encourage you to check back in a month or so. 
Where do your classes take place?
At the moment all our classes take place upstairs in Toowoon Bay SLSC, 160 Bay Road, Toowoon Bay 2261.
We're currently scouting for our second location so if there is a suburb or region of the central coast that you'd like to see us set up, please get in touch!
Is there parking?
There is plenty of parking for our Toowoon Bay Classes. Swadling park reserve is the most convenient spot, then you can simply walk halfway down the ramp (as if you're heading to the beach) to the surf club. Summer holidays get incredibly busy so arrive early where possible! 
Are all the classes the same?
At the moment we have four different class types available:
Restorative Strength and Pilates – a mixture of clinical Pilates matwork and functional strength training. Learn about how your body works, create efficient movement, progress your core strength and feel strong and energised.
Full Body Strength and Stretch – a full body functional class focused on keeping you active, strong and mobile for day to day life.
Pilates Foundations – a slower paced class where we get back to basics with stretching, core, posture and breathing. 
Neuro-training – a standing class using evidence from Parkinson's and dementia research to keep both brain and body strong. We work on balance, agility, coordination and power. 
How do I join your classes?
The first step is to book an initial 1-1 consultation. This is a private appointment that takes anywhere between 45-90 minutes where we go over your medical background, fitness experience and goals. We also go over some simple exercises to assess your posture, core strength, functional movement and balance. Read more about why we have the initial assessment here: The Initial Assessment
After the initial consultation you can book a pack of 10 or 20 classes, or sign up to the unlimited monthly membership. We'll advise which classes are best for you and explain how to book through our website. 
If you're still unsure you're welcome to book a free, no obligation 15 minute phone consultation where we'll answer any specific questions or concerns that you may have. 
What is the cost of your classes?
The initial assessment is a one off cost of $80 (standard/60 mins) or $130 (extended/90 mins).
10 pack classes- $165
20 pack classes- $300
Unlimited monthly membership- $125 per month 
Are your classes right for me? Am I too old/young/injured/healthy?
There are no (or very few!) limits on who can join our sessions! Our trainers specialise in exercise for the 'healthily ageing' community and the average age of our clients is between 60-75 years old. However we also have people much younger and much older than that! Age is just a number- it really depends on your individual circumstances, which we discuss in your initial assessment. 
We cater for everyone in class regardless of whether you're super healthy and just looking to stay active, or whether you're rehabbing from injury/illness.
Likewise with our Neuro classes- although they're designed for Parkinson's disease, dementia and mild cognitive impairment – they're fun and beneficial even if you don't suffer from any of these conditions. 
Do I need a referral?
You're welcome to join the classes without a medical referral, although if you have ongoing medical conditions we advise getting clearance from your GP or specialist first. 
If you're looking to claim the cost of the initial assessment or the group classes from your private health fund, your GP will need to complete a referral form (provided by your health fund insurer) before making the claim. If you have questions about claiming your classes please email us so that we can go over it in more detail (it will also depend on your policy).
What do you do in the classes?
The specific exercises and focus of the class will depend on the type of class that you're doing, however we'll always take you through a warm up, body check in and some mobility work as well as a variety of strength exercises using different props and equipment.
Although the focus of a particular class type will remain the same, you'll never get exactly the same class twice! 
Do I need to bring anything?
We ask that you please bring a towel to put over your mat, a bottle of water and wear clothes that you feel comfortable moving in. Other than that we provide all mats and other equipment. Our training is also done barefoot so ideally just wear thongs or slides that are easy to take on and off.
Why do I need to book into my classes?
If you join the group sessions we do ask that you book into your classes in advance and don't just turn up. This is because we cap the classes at 12 participants – and we also plan the classes around who is attending to ensure you get individual support that is relevant to you!
How many people are in a class?
We like to keep the classes small enough that you get individual attention and support but busy enough that you feel encouraged by the community/group. Most classes are around 8/9 participants with a maximum of 12 in any one class.